Lol, I'm not sure why I do this but yet again I've started a comment to an article that has turned into a full-on post. Entertainment? I suppose I might as well share it. This one was a post by Michael Tsai in which he references a generally positive post by Jesse Peterman who recently wrote about trying an iPad Pro for Coding. I suppose that this is really a reply to both Michael and Jesse. In summary, I think Jesse's post was fair and accurate though several of the comments on his blog do mention solutions that he was unaware of so it may be that at least some of his critiques were actually met by those apps.
Often times such pieces are written from the perspective of users who have been using Macs or Windows for a long time. I've lost track of the times I've come across posts by people that wanted to "try an iPad as my main computer" and then a week or month later they conclude it's not possible because it was a different experience from what they were used to. In a short time frame there's a lot more friction as a new-to-iPad user settles in. Windowing and multitasking seem to be be the initial primary obstacles but then also, sometimes, needed apps that are not available or if an app is available it's not an exactly match to the version they're used to.
My original iPad docked in Apple's Keyboard Stand
I came to the iPad as a long time Mac user (A Color Classic and System 7.6). Like many I bought the first iPad and in those days was happy to use it as a tablet along side of my Mac. But I also bought it with the the Keyboard Stand accessory that Apple sold and within the first few months had found an app, Gusto, that was built for managing/coding websites. It had a very similar feel to Panic's Coda with a sites window with thumbnails, an excellent text/html editor and a built in ftp client. Well, that gave me my first taste of "using the iPad for real work". Given that much of my work then (and now) involved setting up and maintaining small, static websites in the old school html/css/ftp way, well, I was actually quite happy with that set-up.
Over the next few years I happily bounced back and forth between the Mac and iPad. In those early days I relied on the Mac for graphics focused work and the iPad for reading, writing, blogging and code. Around 2016 Serif started releasing iPad versions of their apps and that allowed me to switch over another chunk of my work. None of this was planned, I enjoyed using my Mac and iPad together. But when given the opportunity I usually chose the iPad if it was the right tool for the job. By that time I'd learned all of the gestures and with each new year I learned any new gestures, new features, etc.
Using the iPad beyond casual consumption requires mastery of its interface and an interest in taking advantage of what makes it different: the touch screen. This is really key and seems obvious but many seem to overlook it when discussing features, price and limitations. Of course a 13" iPad Pro is going to be quite expensive, its got a large glass touch screen. In some ways it is more limited and these days its battery life is less than the M-based Macs. And yes, it's heavier than some when you add in the keyboard.
I still keep a Mac Mini around as a file server and as a back-up but sold my MBP back in 2017. I feel a bit like a ninja or a wizard with the iPad. Being able to use it without a keyboard is something I really value. I long ago mastered the many multi-touch gestures that are available and my fingers are always dancing across the glass. I enjoy that experience. But the keyboard is always nearby and about 50% of the time is attached and I'm happily using the keyboard, trackpad and touchscreen together. And still other times I've also got an external monitor attached.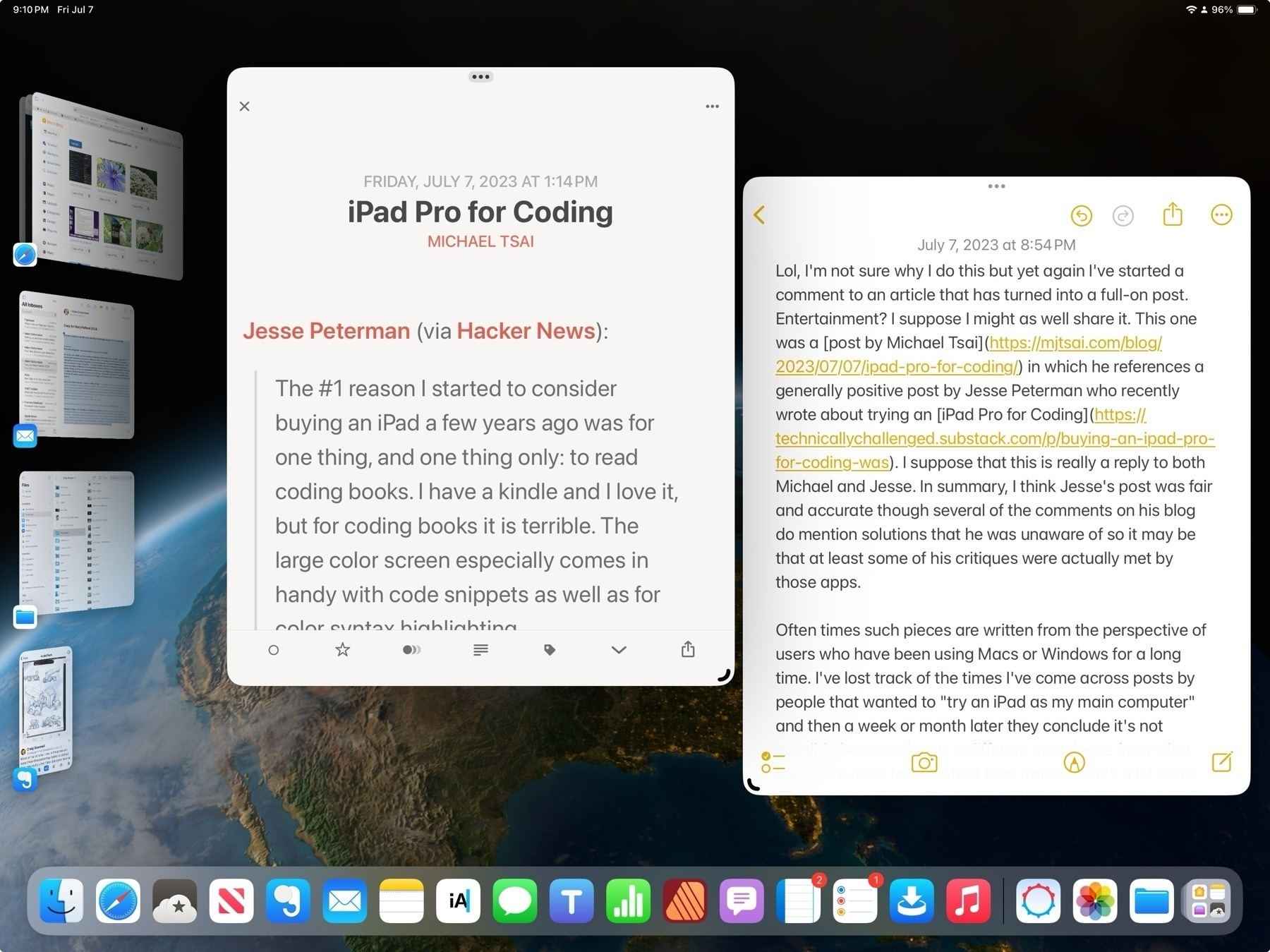 We're 8 years in since the release of the 1st iPad Pro and though the evolution of iPadOS has been too slow for some I've found the last three years of features have added up to a refined user experience that brings a more flexible, powerful range of possibilities for anyone that wants to take advantage of a touch screen, modular form factor. Really, at the end of the day, I like to celebrate the fact that we have so many Apple computers to choose from because it also means so many more people get to have the comfortable computing experience that lets them do more. It's a win for everyone.
If using the iPad is something you're interested in I've written 100+ iPad focused posts.